- - - - - - - - - History -
World War2

Dictatorship of the authority: opposition
- - - - - - - - -
International
Music charts
---
Russian President Vladimir Putin (R), rock stars Bono (2nd-L) and Bob Geldof (L), July 21, 2001 as British Prime Minister Tony Blair in Genoa.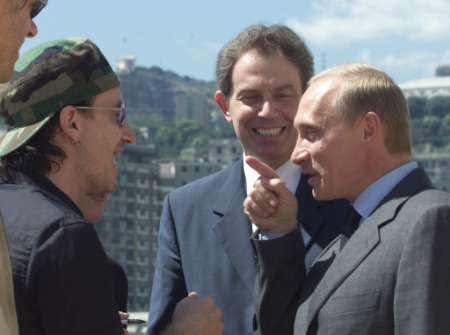 There will be music charts in our country sometimes. But show business affirms that charts are unnecessary for Russia.
---
---
---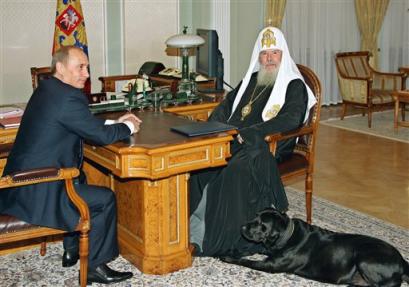 Russian President Vladimir Putin, left, and Russian Orthodox Church patriarch Alexi II pose in Novo-Ogaryovo residence outside Moscow, Froday, Sept. 30, 2005. Putin's Labrador Koney sleeps at right. (AP Photo/ ITAR-TASS, Presidential Press Service )

AP - Sep 30 5:25 AM
---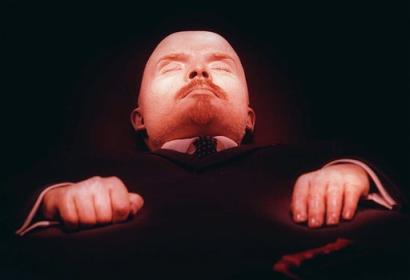 Vladimir Lenin, founder of the Soviet Union, lays embalmed in his tomb in Moscow's Red Square in this April 16, 1997 file photo. A senior aide to President Vladimir Putin said Wednesday Sept. 28, 2005 the time has come to bury the embalmed body of Soviet founder Vladimir Lenin, a statement that could be the Kremlin's attempt to gauge public reaction to the divisive issue. Georgy Poltavchenko, Putin's envoy to the Central Federal District, said Lenin's body should be removed from its granite tomb on Red Square and buried in a cemetery along with remains of other Bolshevik dignitaries. (AP Photo/Sergei Karpukhin/File)

AP - Sep 28 11:54 AM
---
The General Show of Russian.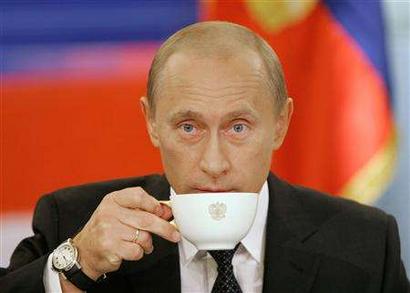 Russian President Vladimir Putin drinks from a cup during a question-and-answer show at Russian state television in Moscow September 27, 2005. REUTERS/ITAR-TASS/PRESIDENTIAL PRESS SERVICE

Reuters - Sep 29 1:02 PM
---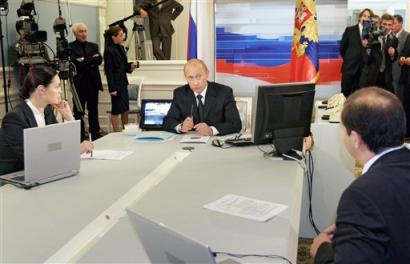 Russian President Vladimir Putin answers a question during a live televised question-and-answer session in Moscow, Tuesday, Sept. 27, 2005. In what has become an annual ritual, Vladimir Putin appeared Tuesday in a live, televised question-and-answer session moderated by anchors of two Kremlin-controlled channels. Thehosts of are Yekaterina Andreyeva, left, and Sergei Brilev, right. (AP Photo/ ITAR-TASS, Vladimir Rodionov, Presidential Press Service)

AP - Sep 27 7:35 AM
---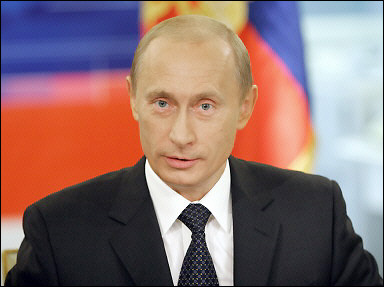 President Vladimir Putin used a marathon televised question-and-answer session to repeat assurances that he will step down at the end of his second term and to promise Russians a share in the country's booming oil wealth.(AFP/Itar-Tass/Vladimir Rodionov)

AFP/Itar-Tass - Sep 27 7:34 AM
---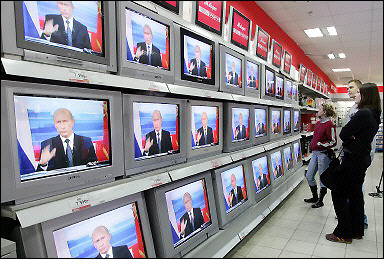 Russians look at President Vladimir Putin appearing on TV screens at an electronics store in Moscow. Putin used a marathon televised question-and-answer session to repeat assurances that he will step down at the end of his second term and to promise Russians a share in the country's booming oil wealth.(AFP/Denis Sinyakov)

AFP - Sep 27 7:34 AM
---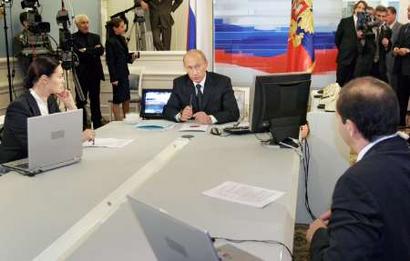 Russian President Vladimir Putin (C) talks to TV presenter Sergey Brilev (R) while anchorwoman Yekaterina Andreyeva listens during a question-and-answer show at Russian state television in Moscow, September 27, 2005. Putin told Russians on Tuesday he had given them stability and a chance at last to plan their lives and, intriguingly, hinted he may stay on in an influential role after stepping down in 2008. REUTERS/ITAR-TASS/PRESIDENTIAL PRESS SERVICE

Reuters - Sep 27 6:39 AM
---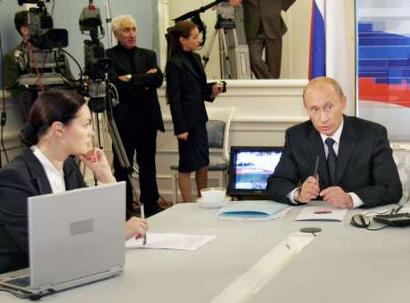 Russian anchorwoman Yekaterina Andreyeva listens to President Vladimir Putin (R) during a question-and-answer show at Russian state television in Moscow September 27, 2005. Putin told Russians on Tuesday he had given them stability and a chance at last to plan their lives and, intriguingly, hinted he may stay on in an influential role after stepping down in 2008. REUTERS/ITAR-TASS/PRESIDENTIAL PRESS SERVICE

Reuters - Sep 27 6:32 AM
---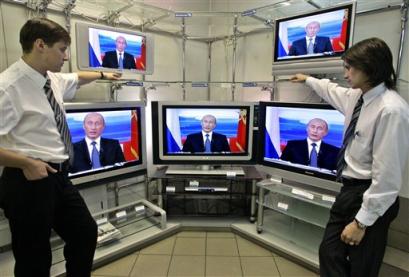 Workers in a TV store in St.Petersburg, Russia, view television sets all showing Russian President Vladimir Putin as he answers questions during his annual televised debate, Tuesday, Sept. 27, 2005. Russian President Vladimir Putin appeared Tuesday in the live, televised question-and-answer session moderated by anchors of two Kremlin-controlled channels. (AP Photo/Dmitry Lovetsky)

AP - Sep 27 6:06 AM
---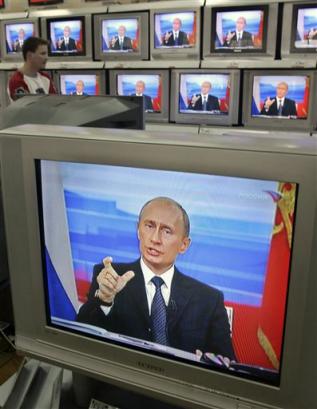 shop assistant walks past a line of TV sets displaying Russian President Vladimir Putin answering questions at a Moscow shop, Tuesday, Sept. 27, 2005. In what has become an annual ritual, Russian President Vladimir Putin appeared Tuesday in a live, televised question-and-answer session moderated by anchors of two Kremlin-controlled channels. (AP Photo/ Misha Japaridze)

AP - Sep 27 3:57 AM
---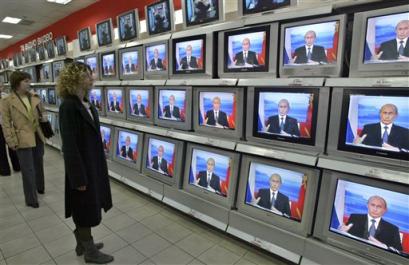 People watch a line of TV sets all tuned in to display Russian President Vladimir Putin answering questions, at a TV wshop in Moscow, Tuesday, Sept. 27, 2005. In what has become an annual ritual, Russian President Vladimir Putin appeared Tuesday in a live, televised question-and-answer session moderated by anchors of two Kremlin-controlled channels. (AP Photo/ Misha Japaridze)

AP - Sep 27 3:55 AM
---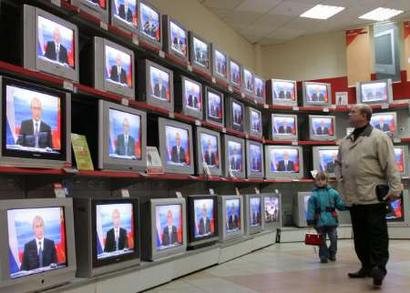 A man walking with a girl watches a television show of Russian President Vladimir Putin speaking during a question-and-answer segment in Moscow September 27, 2005. Putin said on Tuesday he expected the Russian economy to grow by 5.9 percent this year, and that ordinary Russians were feeling the benefits of sustained economic growth. REUTERS/Viktor Korotayev

Reuters - Sep 27 3:37 AM
---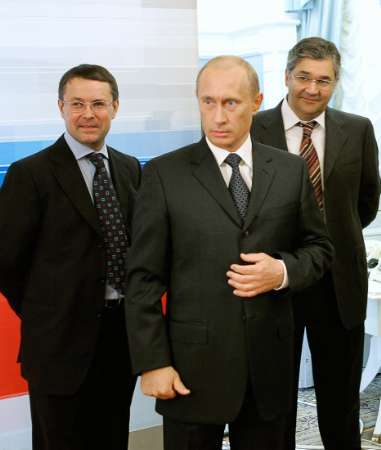 Russian President Vladimir Putin (C) stands between two unidentified men in the studio of Russian state television before a question-and-answer show in Moscow September 27, 2005. Putin said on Tuesday he expected the Russian economy to grow by 5.9 percent this year, and that ordinary Russians were feeling the benefits of sustained economic growth. REUTERS/ITAR-TASS/PRESIDENTIAL PRESS SERVICE

Reuters - Sep 27 3:24 AM
---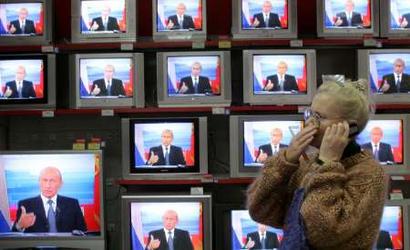 A woman speaks on the phone in front of television sets showing Russian President Vladimir Putin during a question-and-answer show on Russian state TV channels in a shop in Moscow September 27, 2005. Putin said on Tuesday he expected the Russian economy to grow by 5.9 percent this year, and that ordinary Russians were feeling the benefits of sustained economic growth. REUTERS/Viktor Korotayev

Reuters - Sep 27 3:19 AM
---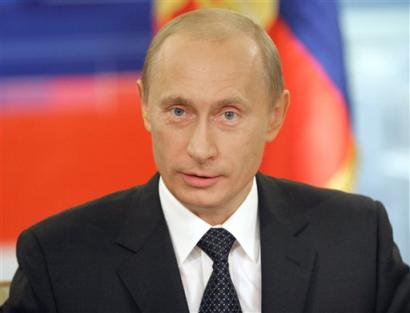 Russian President Vladimir Putin answers a question in Moscow, Tuesday, Sept. 27, 2005. In what has become an annual ritual, Russian President Vladimir Putin appeared Tuesday in a live, televised question-and-answer session moderated by anchors of two Kremlin-controlled channels. (AP Photo/ ITAR-TASS, Presidential Press Service)

AP - Sep 27 2:46 AM
---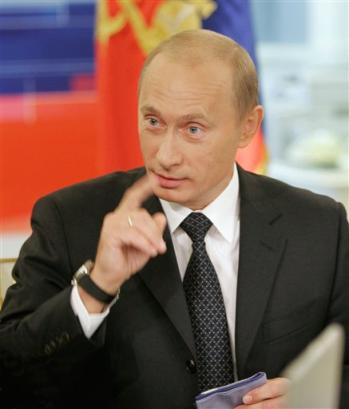 Russian President Vladimir Putin answers a question in Moscow, Tuesday, Sept. 27, 2005. In what has become an annual ritual, Russian President Vladimir Putin appeared Tuesday in a live, televised question-and-answer session moderated by anchors of two Kremlin-controlled channels. (AP Photo/ ITAR-TASS, Presidential Press Service)

AP - Sep 27 2:45 AM
---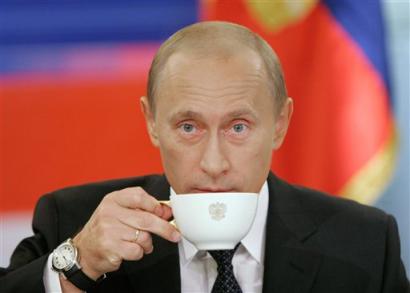 Russian President Vladimir Putin drinks tea as he listens to a question in Moscow, Tuesday, Sept. 27, 2005. In what has become an annual ritual, Russian President Vladimir Putin appeared Tuesday in a live, televised question-and-answer session moderated by anchors of two Kremlin-controlled channels. (AP Photo/ ITAR-TASS, Presidential Press Service)

AP - Sep 27 2:47 AM
---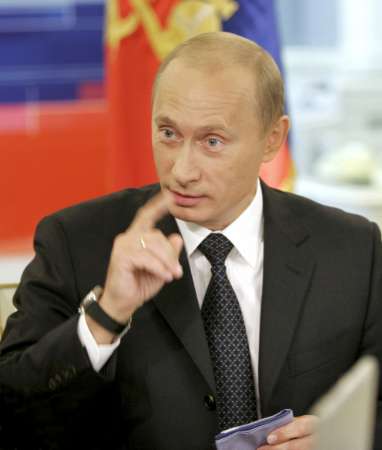 Russian President Vladimir Putin speaks during a question-and-answer show at Russian state television in Moscow September 27, 2005. Putin said on Tuesday he expected the Russian economy to grow by 5.9 percent this year, and that ordinary Russians were feeling the benefits of sustained economic growth. REUTERS/ITAR-TASS/PRESIDENTIAL PRESS SERVICE

Reuters - Sep 27 2:21 AM
---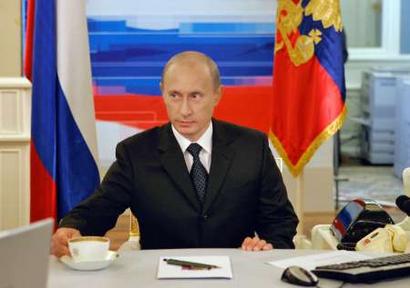 Russian President Vladimir Putin reaches for a cup during a question-and-answer show at Russian state television in Moscow September 27, 2005. Putin said on Tuesday he expected the Russian economy to grow by 5.9 percent this year, and that ordinary Russians were feeling the benefits of sustained economic growth. REUTERS/ITAR-TASS/PRESIDENTIAL PRESS SERVICE

Reuters - Sep 27 2:25 AM
---
---
---
The 1999 MTV Europe Music Awards,

which will be held at the Point in Dublin Nov. 11.

[ Photos: music awards and shows. ]
VH1 Vogue Fashion Awards, New York
1999 Billboard Music Awards, Las Vegas
---
---
---
E-Mail: radioru@mail.ru
Oleg Grishutkin
Today:
Moscow
photos: